Arrowhead and Ancient Indian Artifact Appraisals
Sell Your Collection!
We pay top dollar for your collection.
Whether you are ready to sell your Indian Arrowhead Collection now or later or not at all, we are here to help you. No other company in the world performs more Indian Artifact Appraisals, Indian Arrowhead Appraisals or Native American Arrowheads and Artifacts Appraisals than we do.
If you would simply would like to know the value of your Indian Arrowheads and Artifacts collection whether it is for Estate, Inheritance purposes, Insurance reasons, or just for your peace of mind, we offer 3 different appraisal options for you to choose from:
Photo based appraisal of your Indian Artifacts Collection
Professional Written appraisal
In Person or in home appraisal


There is NO CHARGE for our initial review. It is a 100% FREE review. Once we look over your Indian Artifact Collection, we will provide you with our expert opinion on how you should proceed based on your collection and your individual needs.
To begin the appraisal process we need to see a sample photo of your collection. Once we have seen a sample of your collection, we will be in touch with you to make arrangements for your appraisal. It is very important that you send us good quality photos for our initial evaluation. Please follow the examples of the photo below to submit your photos to us: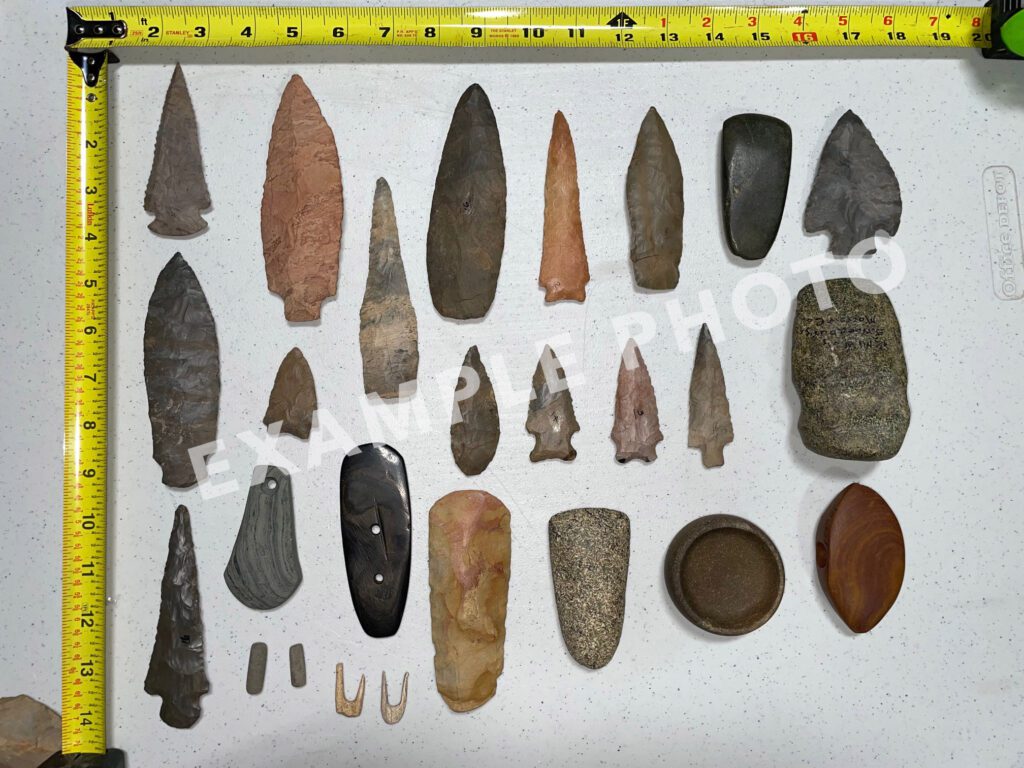 Good photos result in a good review!
• Photos submitted should be in Focus (see example photo)
• Photos should be taken on a solid color background with adequate lighting. If they are in display cases – please open the lid, if possible, to prevent glare.
• All photos should include a standard inch ruler for sizing purposes.
• Please keep photos at a maximum of 50 artifacts per picture.
• Tell us a little bit about the artifacts or collection you wish to appraise. Good collector history always adds value to your collection.
Now that you are ready for your NO CHARGE initial review; Please submit your sample photos to john@arrowheads.com to begin the appraisal review process.
Please Note The Following:
*We receive dozens of submissions daily and it could take up to 2 days to respond. If you have not heard back from us in 72 hours, please email john@arrowheads.com to follow up.
*Please do not send multiple emails, overlapping or duplicates of the same artifacts. We will let you know if we need extra photos.
*We do not appraise Face Rocks, Effigy Rocks, or Geofacts. It is not that we do not appreciate these items, we just do not have a collector base for them.
*If you just want to know "What did I find", please join our forums, and ask our Mentors; Fill out the form on this page to register for free. https://forums.arrowheads.com/register Then share some photos in the section titled " What did I find".
Disclaimer:
By contacting us, you warrant that your artifacts were legally obtained according to the Federal & State Laws governing collecting artifacts. State laws may vary from state to state. https://arrowheads.com/laws-concerning-artifact-collecting/.
WE DO NOT CONDONE OR OFFER TO BUY ANY ARTIFACT RECOVERED ILLEGALLY. IF THAT IS WHAT YOU ARE LOOKING FOR, PLEASE FIND ANOTHER PLACE TO SELL YOURS.