Teresa K. Putty and Don R. Ham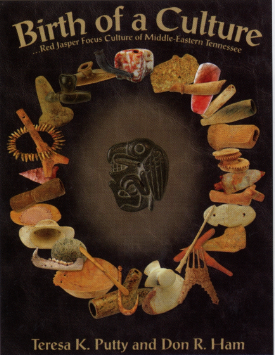 We are living in a truly fantastic time. The past few years have produced some of the greatest books ever written about archaeology and prehistoric cultural material. One such book is Birth of a Culture, by Teresa K. Putty and Don R. Ham, a "must-have" library addition for pro­fessionals and collectors.
Birth of a Culture contains a wealth of photos of impressive objects from a previously under-published period of pre-history. The Red Jasper Focus culture (3000 B.C.-600 A.D.) of Middle-Eastern Tennessee was characterized by a sophis­ticated combination of utilitarian design and creative artistic flair. For many professionals and collectors several images of important objects will be seen for the first time in this book.
This reviewer recalls the skeptical responses of many when the Red Jasper Focus assemblage was first presented at artifact shows—"This material is just too perfect, and there is just too much of it to be real!" But as more people were able to examine the material up-close-and-personal, and as people became aware of how truly remarkable the material had been excavated and curated, the doubts disappeared.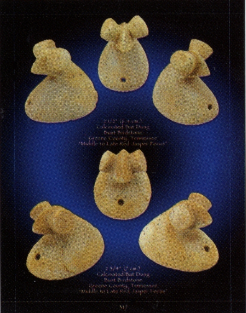 Show sponsors who at first were hesitant to permit the material to be displayed began calling Don Ham to make sure he was now bringing that "awesome case" to their shows, their general opinion having been changed to "Wow! Everyone needs to be able to see this stuff! It's really important!" Important it is, and the book underlines that fact.
Through the professional efforts of archaeologist author Teresa K. Putty and the benevolent dedication and commitment of the assemblage curator Don R. Ham, Birth of a Culture now makes it possible for every professional and every collector and anyone interested in the Red Jasper Focus people to personally have their own valuable reference with clear images of important cultural material. Upon studying the book one will quickly realize the word "Wow!" only partially acknowledges the importance and the uniqueness of this assemblage.
In addition the tastefully presented photos of the actual Red Jasper Focus sites throughout the book serve as garnishments to the story told by the well prepared photos and text, and they become an additional important contribution of this impressive work. As one studies the riverine settings of those sites the tendancy is to vicariously imagine the excitement of discovery and seeing for the first time in centuries the magnificent remnants of a once thriving culture.
Perhaps the greatest message this book offers to professionals and collectors is that much can be gained through cooperative efforts of those who have an insatiable appetite to see more and learn more and think and conjecture more about those wonderful prehistoric people. Birth of a Culture is an important entrée to help satisfy that appetite.
This most comprehensive and well presented book, like a favorite recipe, will be cherished and often revisited and kept-on-a-shelf-close­by! Enjoy!

Birth of a Culture
ISBN No. 0-9707547-3-6 Published by
Woodburn Graphics www.birthofaculture.com
don@birthofaculture.com or 252-747-5516