Sell Indian Arrowheads For Cash
If you have a collection of Indian arrowheads that you no longer want, you may be wondering where you can sell them for a fair price. There are several options available, including online marketplaces, antique shops, and specialized collectors. Here's what you need to know to sell your Indian arrowheads and get cash in your pocket.
Research the Value of Your Arrowheads
Before you sell your Indian arrowheads, it's important to research their value. The value of arrowheads can vary greatly depending on factors such as age, rarity, and condition. You can start by searching online for similar arrowheads and their prices, or by consulting with a professional appraiser. Knowing the value of your arrowheads will help you determine a fair price and avoid being taken advantage of by potential buyers.
Once you have determined the value of your Indian arrowheads, it's important to find a reputable buyer. You can start by checking with local antique shops or collectors who specialize in Native American artifacts. You can also search online for buyers who specialize in Indian arrowheads. Be sure to read reviews and check their credentials before making a sale. It's important to protect yourself and your valuable collection.
Clean and Prepare Your Arrowheads for Sale
Before selling your Indian arrowheads, it's important to clean and prepare them properly. Use a soft-bristled brush and water to gently remove any dirt or debris. Avoid using harsh chemicals or abrasives that could damage the arrowheads. Once they are clean, you can display them in a case or on a velvet-lined tray to showcase their beauty and value. Taking the time to properly clean and prepare your arrowheads can increase their value and make them more attractive to potential buyers.
We are always in the market to acquire Authentic Native American Indian Artifacts. We buy single pieces or entire collections. Our interests range from average field grade artifacts, to collections containing "High Grade" Artifacts including; Bannerstones, Bird-Stone, Gorget, Pendants, Axes, Celts, Discoidal, Pipes & Pottery. We are your one stop shop to sell it all.
It is very important that you send us good quality photos for our initial evaluation. Please follow the examples of the photo below to submit your photos to us: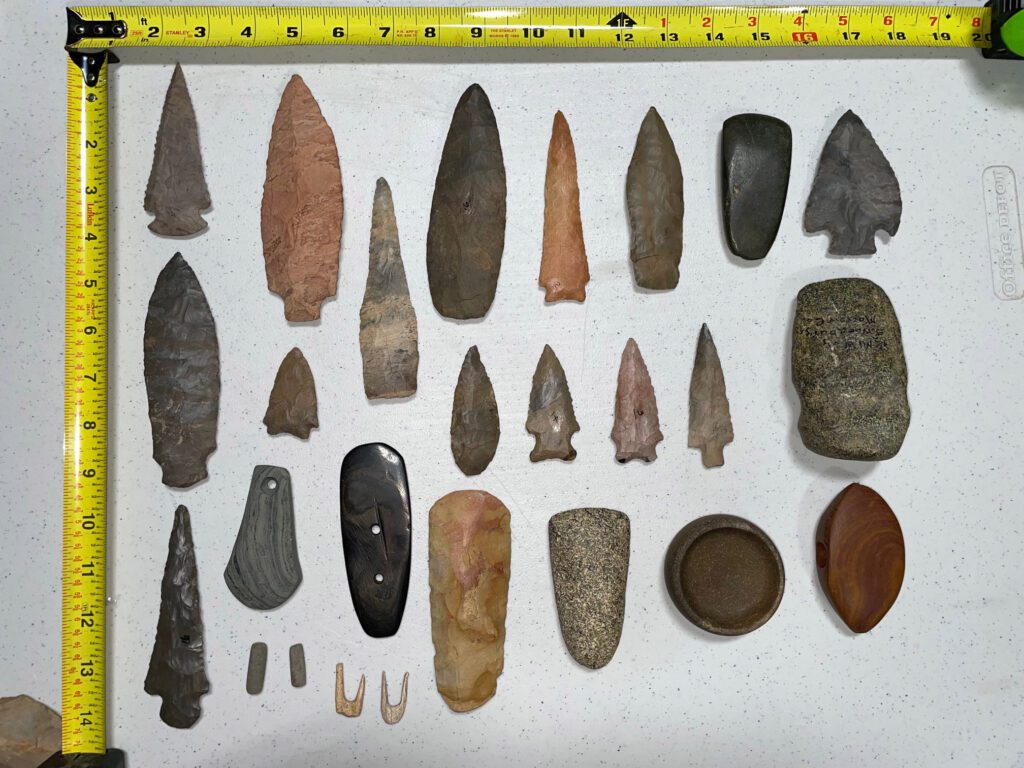 Photos submitted must be sent in large or high resolution.
Photos must be taken on a solid color background with adequate lighting. 
All photos must include a standard inch ruler for sizing purposes.
Please keep photos at a maximum of 50 artifacts per picture.
If you are not ready to sell yet and simply would like to know what your collection is worth whether it is for Estate or Inheritance purposes, Insurance reasons, or just for your peace of mind, then contact us for more details. Go to our appraisals page to get started.
To review our appraisal process, click here;  discuss our appraisal services, or if you have additional questions, please visit our FAQ (Frequently Asked Questions) page. 
If you still can't find what you need, please email me directly to john@arrowheads.com.
Email is our preferred method of communication. But please remember we get over 100 emails per week so please be patient with us.
By contacting us, you warrant that your artifacts were legally obtained according to the Laws governing collecting artifacts. You warrant they were not found on Government Property and were not taken from Burial Graves and they were found on private property with the landowner's permission.
WE DO NOT CONDONE OR OFFER TO BUY ANY ARTIFACT RECOVERED ILLEGALLY. IF THAT IS WHAT YOU ARE LOOKING FOR, PLEASE FIND ANOTHER PLACE TO SELL YOURS.