by Kent C. Westbrook, Little Rock, Arkansas
Originally Published in the Central States Archaeological Journal, Vol.55, No.4, pg.220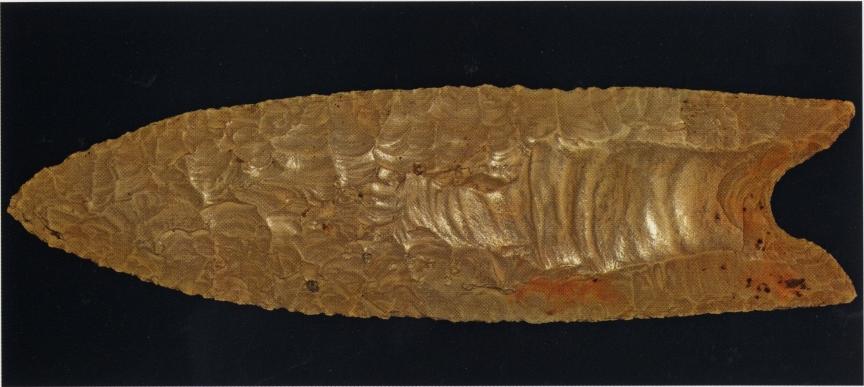 The late Roy Hathcock, of West Plains, Missouri, was one of the most discriminating artifact collectors of the last 50 years. The Arkansas point reported here was one of his favorite artifacts. In the videotape made of his collection, he referred to it as the "Star of the Show." In notes on his collection, he calls it the "Best of the Best."
Scott Davidson, an attorney of Batesville, Arkansas, secured a history of the point from Jeral Hastings, the grandson of the finders, in 2007. That interview is recorded on video­tape and I will present the high points from that discussion.
The point was found by Georgeanne Mont­gomery. She and her husband lived on a farm 4 miles west of Cave City in Independence County, Arkansas. There was an area of the farm which had grown up in old fields and cedar trees. Her husband plowed up some of it in the late 1950s or early 1960s. While walking on the site, she found the large point. The point was a treasure of their family. She refused to think of parting with it until her husband died. Upon his death, she gave the point to her grandson, Jeral Hastings.The pre­sentation occurred upon his graduation from college. Mr. Hastings went to work for a bank in Cave City and placed the point in the vault at the bank. Sometime about 1970, Bill Rowl­ett, of Lafe, Arkansas, came to Cave City. Mr. Hastings showed him the point, but refused to price it. A couple of days later, Bill Rowlett called back and told Mr. Hastings that it was soon to be his wife's birthday. He wanted to purchase the point for her birthday. Finally, Mr. Hastings priced the point at $100 which he thought would keep Mr. Rowlett away. Mr. Rowlett came immediately and purchased the point. From Bill Rowlett, the point went to Roy Hathcock. About 1980, Roy Hathcock contacted Jeral Hastings and talked with him about the point. Mr. Hastings gave him some of this history, but not as much as Scott Da­vidson obtained in a more formal interview.
In 2007, the Hathcock Family sold the paleo points in the Roy Hathcock Collection. As a result of that sale, I obtained this point.
The point is a little over 5 inches long and is made of a yellowish material. It is very thin with fine serrations, and has characteristics of both a Clovis and a Dalton. In "The Prehisto­ry of Missouri," it is suggested that this point may well be a transition type from Clovis to Dalton. Regardless, it is an exquisite point with superb flaking, great fluting, tiny serra­tions, and a very deep base.
I am fortunate to be the current keeper, at least for a time, of this outstanding Arkansas point that meant so much to Georgeanne Mont­gomery, Roy Hathcock and Scott Davidson."Used by Permission of the Author"
To learn more about or to join the Central States Archaeological Society, click here:CSASI.org