by Patrick L. Mooney, Peru, Indiana
Originally Published in the Central States Archaeological Journal, Vol.56, No.4, pg.200
Originally Published in the Central States Archaeological Journal, Vol.57, No.2, pg.70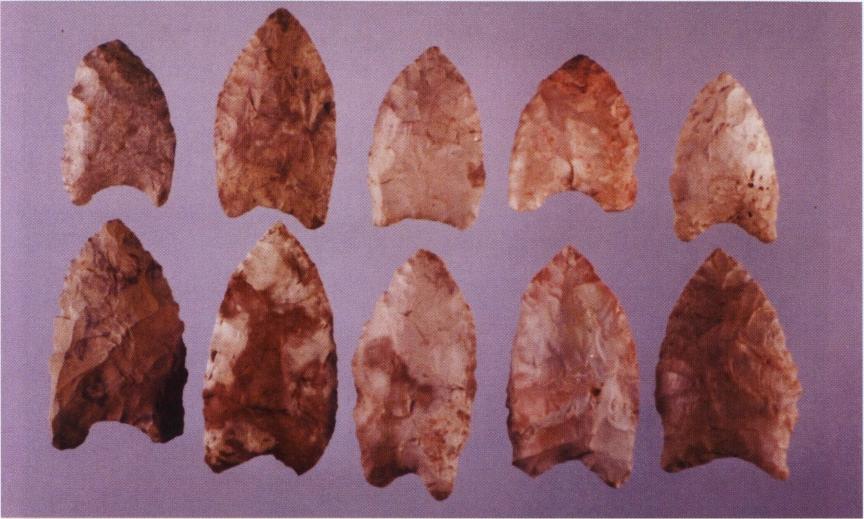 The Hi-lo Point is a late Paleo Early Archa­ic style common to the Great Lakes area. It was named by James Fitting from points found at the Hi-lo Gun Club Site in Ionia County, Michigan.
The point is lanceolate in form with a base that may be either thinned for even fluted. Specific radio-carbon dates have not been established, but they seem to correlate with the Dalton horizon of 8500-8000 BC. Perino suggests the point was still being manufactured as late as 6000 BC, but this date has not received much support from other au­thors.
Three forms of Hi-lo points are recognized, each having heavy basal and lateral grinding. The first has parallel sides, the second triangular in shape and the third has a constricted stem and slight shoulders.
Varying degrees of re-sharpening leaves some variations to display left-hand beveling, but re-sharpening without beveling also occurs. Some variations appear to be side-notched, to have slight shoulders or have weak stems. Re-sharpening may remove these characteristics. The high degree of beveling and heavy re-sharpening suggests these were used as knives and butchering tools rather than projectile points.
They may be related to the Dalton Point, as it pos­sesses many of the same characteristics and is from the same time period. Aqua-Plano and LeRoy points are considered to be Hi-Lo points. All of these points were probably used in caribou and elk hunt­ing.
The ten Hi-Lo points pictured were found in either Miami or Cass County, Indiana. They range in size from 1 3/8 to 2 1/16 inch. The point 2nd from the right on the bottom row is a personal find of the author. It is fluted on the reverse side nearly two-thirds the length of the point. Center-top and bottom far-right would be considered pristine ex­amples of this point type. The point on the top row, 2nd from right would be considered nearly exhausted due to extensive re-sharpening."Used by Permission of the Author"
To learn more about or to join the Central States Archaeological Society, click here:CSASI.org