by John Baugh, Tampa Florida
Originally Published in the Central States Archaeological Journal, Vol.55, No.3, pg.131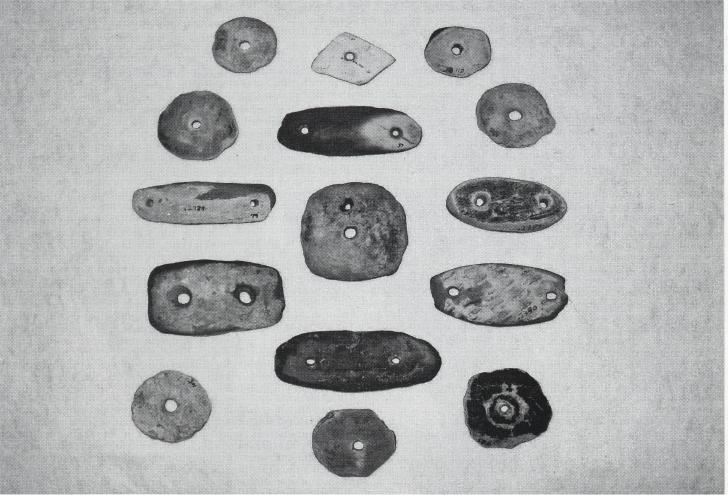 Many of Florida's early inhabitants lived along the St. Johns River in Volusia County. One of these ancient cultural groups resided on Tick Island during the transitional/St. John's I period (500 BC — 800 AD), and pro­duced unique pottery gorgets and pendants. I have enjoyed the privilege of collecting them over the last twenty-five years, and have al­ways regarded their raw primal simplicity as their most attractive feature.
The distinctive pottery gorgets and pen­dants of this area were manufactured of lo­cal clay from freshwater sources and fired for hardness under low temperature heat. This unique clay contained natural inclusions of freshwater sponges, which acted to strength­en the objects without additional tempering agents and also produced the associated soft chalky surface commonly referred to as St. John's Paste. This type of pottery is believed to have evolved from the Late Archaic Orange Pottery, a plant fiber tempered ceramic mate­rial found on the earliest ceramic sites here in Florida.
Examples of the Tick Island gorgets most commonly have two holes used for suspen­ sion, being most often rectangular, and oc­casionally ovoid or square in shape. Average width is approximately 3″, and about 1 1/2″ tall. Rare examples are punctated or incised, with most being undecorated. The pendants are predominantly round with a single cen­tral hole, averaging 2″in diameter, with in­frequent examples being diamond shaped.
Each one is a rare treasure of Florida's past. I have found them to be illusive, and scarcely existent in public or private collec­tions, and have resolved to compile and pre­serve the specimens that have been placed in my guardianship over the years.
The Tick Island Mound and midden com­plex was destroyed in the 1960s for commer­cial purposes. It's said that portions of the site could be scattered as far south as Palm Beach, the shell having been used to construct many of Florida's road foundations. Little more than a vast pool of water remains today where a once thriving and vibrant early cultural com­plex once stood. All is gone except a small quantity of remaining items that include the pottery gorgets and pendants of Tick Island, Florida."Used by Permission of the Author"
To learn more about or to join the Central States Archaeological Society, click here:CSASI.org