By David DeTar Newbert, Chairman
Publication Materials Screening Committee
We watched with anticipation as yet another half-dollar-sized flake of Knife River Flint was struck off the piece. Over the course of an hour, a St. Louis-style Clovis was emerging from what had started out as a dull chunk of unexciting Knife River Flint raw material. After another few minutes, when the flutes had been struck, it was complete. I was later able to purchase the piece I had watched being created for one hundred dollars. Were this five and one-half-inch beauty the "real thing", it would be worth thousands of dollars.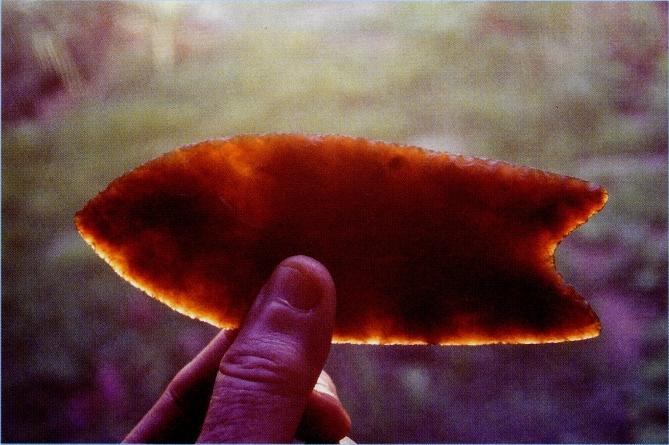 When current G.I.R.S. President, Tony Stein, asked me to write a brief article explaining to our members the purpose, structure, and methodology of the Publication Materials Screening Committee, I thought of that beautiful Knife River Clovis I had watched being made a decade ago. Of course it was not a real Clovis, but it was made the correct way. I have since seen plenty of other Clovis points that are just as new as my "Clovis" which have been aged, broken and messed with, and then offered as authentic old pieces. How do we keep these pieces, now intended to fool the unsuspecting and trusting, off the pages of Prehistoric American?
The Genuine Indian Relic Society, Inc. came into being on December 15, 1964. The Articles of Corporation state that the "purposes for which it is formed are as follows: To educate the public in general and archaelogists [sic], teachers, students and collectors about fraudulent American Indian artifacts". In the Bylaws of the Society, under Article II, the "Objectives" include the establishment of "a permanent national organization to promote friendship and trust among persons interested in the collection and preservation of genuine prehistoric North American artifacts"; the taking of a "vigorous stand in opposing the display, sale or distribution of questionable and fraudulent artifacts"; and the exchange of information and education "through the regular publication of journals".
Current G.I.R.S. Chairman of the Board, Fred W. Marsh, Jr., set about establishing a number of new committees to help promote the goals of the Society shortly after being elected G.I.R.S. President back in 2000. The Publication Materials Screening Committee was one of those new committees. As Fred observed: "I believed it to be essential to have a formal group of varied experts knowledgeable in different areas of prehistoric North American artifacts available to examine, primarily for authenticity determination, artifacts that G.I.R.S. members proposed to publish in Prehistoric American. The purpose of these screenings would be to avoid, if at all possible, the publication of non-authentic reproductions in our Journal".
The membership of the Committee is as diverse as envisioned by Fred. The Committee boasts three G.I.R.S. "Living Legends" with over 150 years of collecting experience. These members share their vast knowledge and invaluable experience and insight, having handled thousands of , rare and authentic artifacts over their years of collecting. Each member brings to the Committee his own area of interest and specialized knowledge which he willingly shares with the Society.
The best way to insure that only authentic artifacts are published in the Journal, is by following a process of thorough examination of actual artifacts, and the accompanying history or provenance for each piece. G.I.R.S. members with artifacts for publication in the Journal should show their interest at the earliest opportunity by allowing close examination and scrutiny of the proposed items by Committee members at G.I.R.S. shows.
Fred Marsh noted: "G.I.R.S. members could be most helpful to this Committee if each member proposing to publish artifacts in Prehistoric American would submit such artifacts to the Publication Materials Screening Committee for examination sufficiently in advance of desired publication. Prior authentication paperwork, which includes the provenance of the piece, is essential as well." Fred further noted: "I believe that the Committee has been successful over the years in performing its designated 'function', limited only by our members' failure to submit in a timely manner their artifacts to the Committee for prepublication examination. Reviewing only photographs of items submitted for publication can be very 'risky business' ." Our Editor-in­Chief, Gene Hynek, works very closely with other Committee members in evaluating artifacts for publication.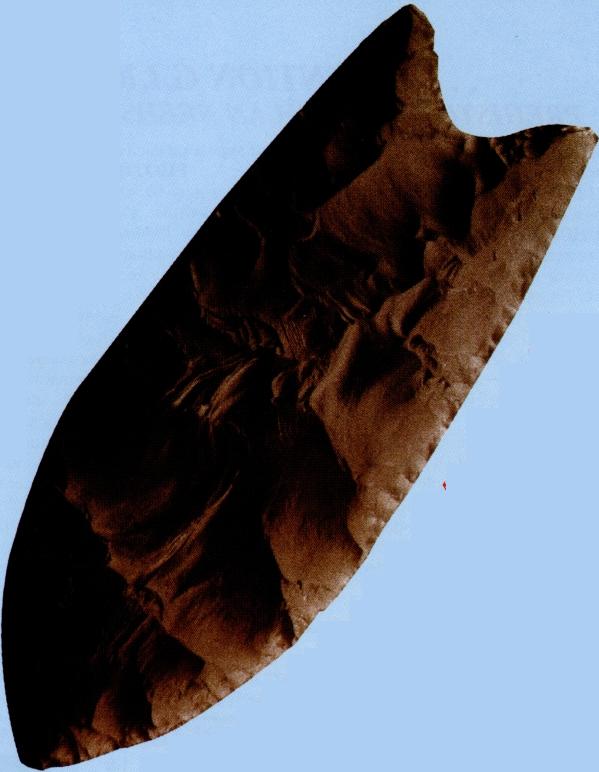 Elmer A. Guerri, a member of the Screening Committee and a G.I.R.S. Director, explains: "The Society regularly provides opportunity for a photographer to be present at G.I.R.S. shows. This provides ample opportunity for personal inspections of pieces by multiple screening committee members during G.I.R.S. shows. A consensus opinion among screening committee members who have examined a piece firsthand or who are familiar with a piece is preferred for acceptance. Similarly, a consensus among multiple screening committee members who may be uncomfortable with a piece would require additional examination before a decision is ultimately made. The Society believes that having the opportunity to have an artifact published is not a right but is a privilege subject to reasonable examination and judgement."
Tony Stein, President of the G.I.R.S. added: "Often the submission that we receive for publication is in the form of a photograph. It can be very difficult to make a final decision as to whether an artifact should be published based only on examining a photograph. If a member's submission for publication is initially turned down based on a photograph submission, please don't give up. Those members whose artifacts are not initially accepted for publication should bring the artifact to one of our shows or make special arrangements with a member of the Committee to personally examine the artifact in question. The Committee is eager to help, and we encourage members to participate."
The stance of the Committee is rather straightforward: "When in doubt, keep it out". If there truly are questions about the authenticity of an artifact, the piece simply cannot be published in the Journal. Telling someone that his prized artifact may not be old and will not be published does not make one very popular. However, there is nothing in the G.I.R.S. Bylaws about being popular. Of course, no system is foolproof, but we truly want only the "real thing" on the pages of Prehistoric American!