By Oliver T. Skrivanie
G.I.R.S. Member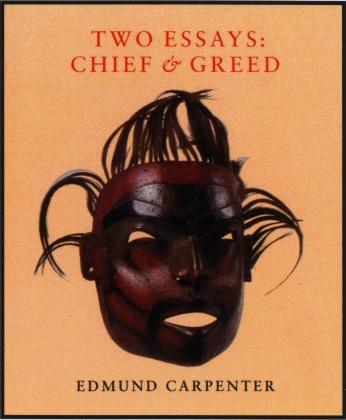 The author, Edmund Carpenter, was a trustee of the Museum of the American Indian (MAI) in New York City from 1973 to 1985. His essays expose the shocking conduct of its founder, George Heye, and the secrecy, concealment, and breach of fiduciary duty of certain directors and officers of MAI.
George Heye was the sole heir to a fortune derived from the sale of an oil refinery and pipeline by his father to John D. Rockerfeller for $35,000 in cash and 150 shares of Standard Oil in 1876. The MAI was the end result of over 85 years of collecting by George Heye. This fascinating writing takes us behind Heye's wealth and discloses the "real" George Heye.
Heye was ruthless in his dealings and in collecting. As reported: "He expressed no need to explain what he did and didn't!" The book addresses the process of "accessioning" and "field collecting" with interesting short tales and overviews of "suppliers" by name. Heye actually did all of the cataloging of artifacts, and there were no "provenance unknown" objects, as Heye supplied provenance by guess which became fact! The sheer volume of artifacts and collections accumulated in the early 1900s by Heye is mind boggling. "Chief", the title of the first essay, is most appropriate!
The second essay is entitled "Greed", which explores the disturbing and appalling conduct of certain trustees of the MAI. I think we have all wondered what goes on behind the scenes—well, you'll find out! New levels of secrecy, concealment, and breach of fiduciary duty are recounted by the author.
The sad conversation of George Heye to a leading dealer in Indian artifacts is divulged. Deaccession of MAI artifacts began occurring at a record pace. Even after Heye's death in 1957, one of his successors, Frederick Dockstader, continued to sell, trade and give away thousands of objects each year from 1960 to 1975. After Dockstader's dismissal, the Chairman of the Board of MAI permitted the continuation of sales! Even a Collections Committee policy aimed to terminate such conduct was ignored!
The last section of this essay covers the period of time when the author served as a trustee of MAI. There is an intriguing account of Dr. Arthur Sackler's acquisition of MAI objects and associated litigation. Sackler was a very high profile collector and this reviewer recalls that he endowed a wing at the new National Museum of the American Indian in Washington, D.C. (NMAI).
The legacy of Heye and the malfeasance of certain MAI trustees is that between 60,000 and 90,000 objects "departed" from the MAI!
Add this 2005 writing to your bookshelf—and periodically re-read.
Two Essays: Chief & Greed
Soft cover; $35.00
Persimmon PressP.O. Box 821, North Andover, MA 01845