by Mike Wayland, San Jose, Illinois
Originally Published in the Central States Archaeological Journal, Vol.57, No.2, pg.68
Hunting has always been good in our area. Many years ago my father-in-law, Justus Roberts, was an avid surface hunter. He hunted two or three sites in southern Henderson County, Illinois. Two of his favorite finds were the two undamaged and fine Keokuk axes shown in Figures 1 through 4.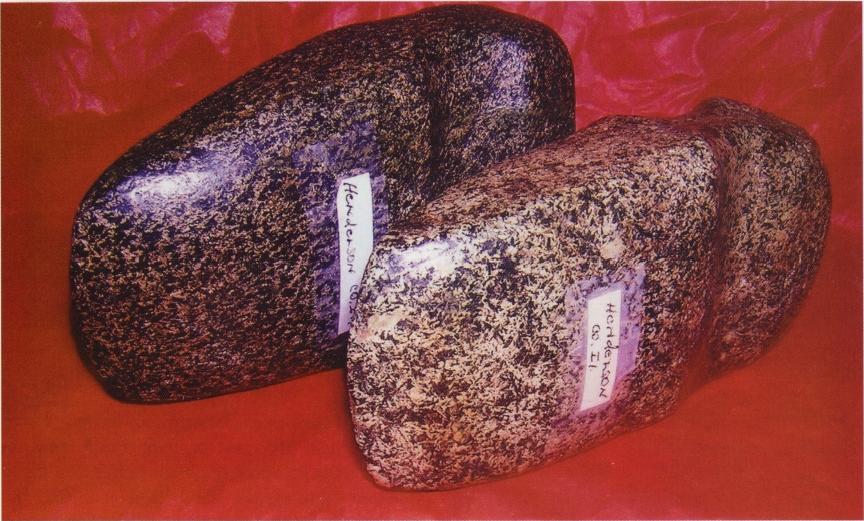 The near axe in the photographs is made from a yellow and black speckled. bannerstone type hardstone. It appears to be a wirey granite materi­al. The axe has been resharpened. It will stand up on its pole end, which is kind of unusual because of its narrow slab style. It is slightly ridged and has two flutes. Interestingly, there are two studs, or feet, opposite the handle side. Weighing one pound four ounces and measuring five inches in length, it was found close to Lomax, Illinois. It has no farm implement damage.
The far axe is made from a black and yellow speckled hardstone and has a full polish. It has one flute on the handle side. It measures just over five inches in length and weighs two pounds.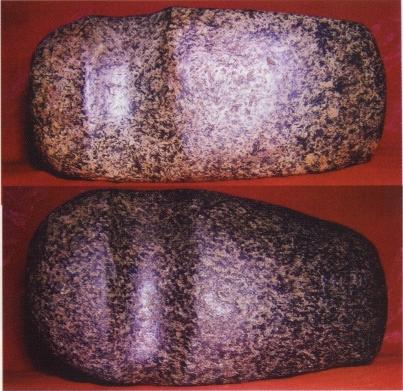 Southern Henderson County, Illinois, is the apex of the Keokuk type axe territory. It must have been thrilling for my father-in-law to find these. He passed away in 1969.

Two very interesting Middle Archaic side notched Benton Points, both made from quartz. The top point measures 3 Y2 inches in length and was found in Putnam County, Tennessee by Vestal Buckner. He traded the point to the present owner for a pocket knife. The bottom point is from Jackson County, Tennessee and measures 4 3/8 inches in length. Quartz is is a very rare and unusual material for a point, since is very difficult for the ancient flint knapper to utilize. These points have a curve their shape, the result of being knocked off a ball of quartz.
A cache of five Middle Archaic Buck Creek points found in Trigg County, Kentucky in 2008. The longest mea­sures 2 3/4 inches in length."Used by Permission of the Author"
To learn more about or to join the Central States Archaeological Society, click here:CSASI.org